Buying property and letting it out to generate a passive income stream has been a popular way of investing money for ages. However, finding a buy to let that suits your investment needs can be a struggle. Some people prefer fully managed property investments, some prefer high yields, whereas others may prioritize capital growth.
In the following blog, we'll go over Concept Capital Group's buy to let opportunity and what makes it unique compared to traditional buy to let's.
Our Buy To Let Opportunity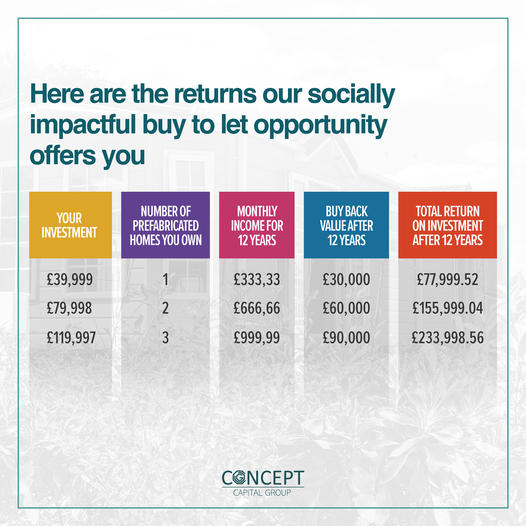 Concept Capital Group is offering you ownership of a prefabricated home for £42,999 only. The home comes fully managed and tenanted at no extra costs to the investor. In fact, once we sell the home, our clients sit back and receive a guaranteed rental income straight into their account.
There are several factors that make our investment opportunity unique compared to traditional buy to lets.
Socially Impactful
Finding an investment that offers the perfect harmony of capital growth and social impact is hard nowadays. Luckily, our focus at CCG is generating affordable homes for low income and government-assisted tenants while offering our clients high yields.
The homes that are sold to our clients are built and furnished to house vulnerable individuals and families who are pre-approved to receive housing benefits. With the support of our clients, we aim to build the UK where every individual has a place that they can proudly call home.
High yielding
Finding high yielding buy to let opportunities can be a struggle in the UK as the current average yield on property investments is below 7%. However, Concept Capital's Buy To Let homes allow you to generate minimum yields of 10%.
We are able to offer such high yields through a guaranteed passive income stream that is paid through housing benefits. So, if high yield and low risk attracts you, this might be the right opportunity for you.
Buy Back Guarantee
All investments come with a certain level of risk, but we are able to minimize the risk associated with our buy to let opportunity by offering clients a buyback guarantee. We have two exit strategies in place to ensure our clients can sell the home if they need to.
Firstly, our clients can sell the home directly to us with a six-month notice every 2nd year of the investment. Secondly, our client can inform us that they want to opt out, and we will market the home to another investor.
A comparison of Our Buy to Let with Traditional Buy to Lets Opportunities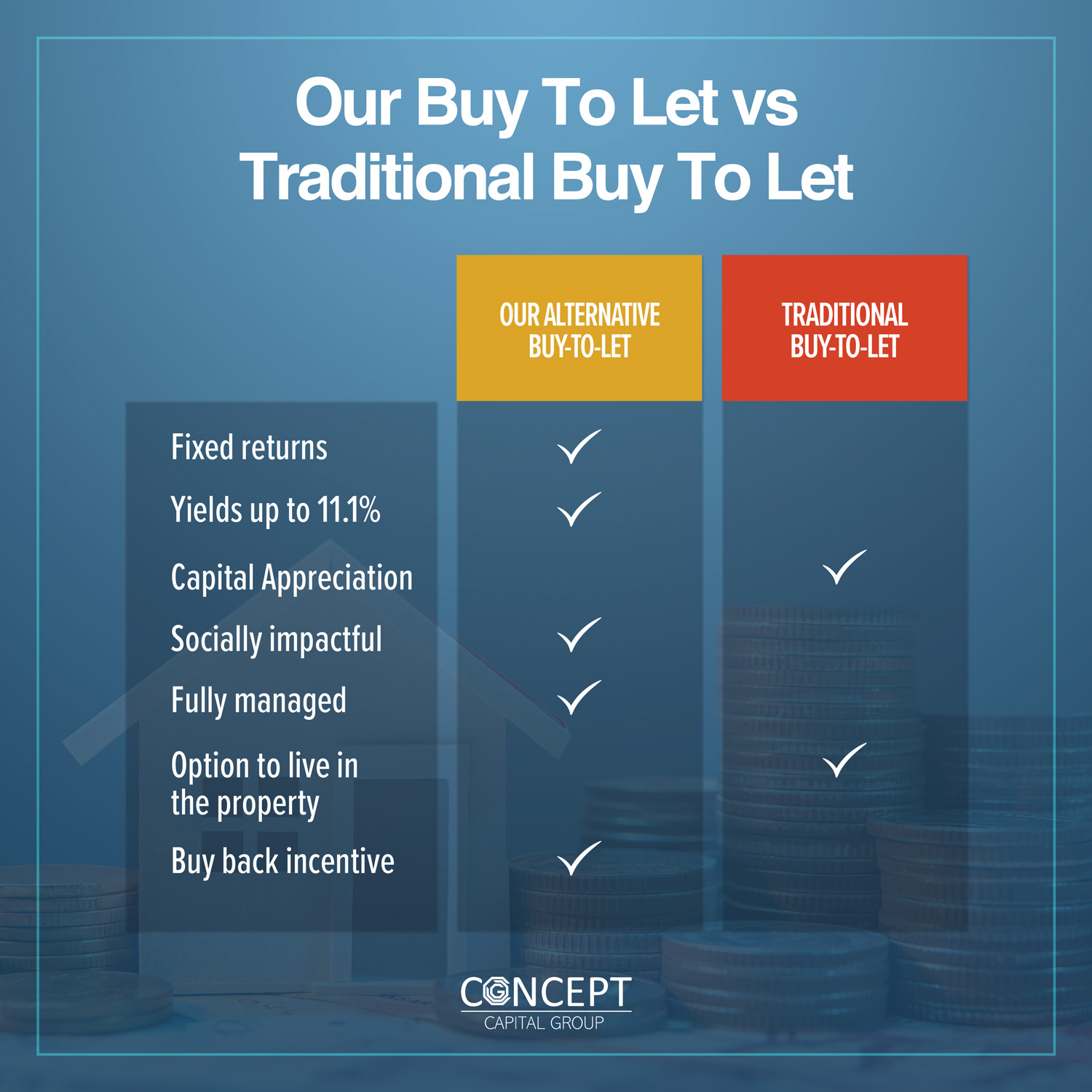 The above comparison table sets our Buy To Let apart from traditional Buy to Lets based on a few factors, including:
Social Impact
Hassle-Free approach
High yields
Buyback guarantee on property
No stamp duty or additional costs
Final Thoughts
The property market is currently flooded with Buy To Let opportunities, however it's rare to find an opportunity that ticks all of your needs. If you're looking for a hassle-free property investment that is socially impactful and high yielding, Concept Capital Group's Buy To Let might be the perfect option for you.
Though if you're looking for capital appreciation and the option to live in the property, traditional Buy To Let's might be a more suitable option. learn more about our prefabricated home investment and how you can start growing your savings immediately by getting in touch with us here.